There is a $100 minimum order.
General Lightweight Field Shower System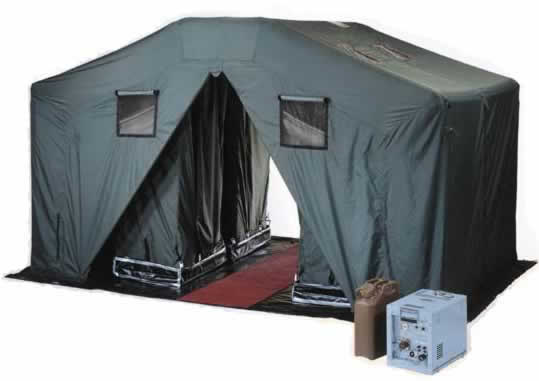 Lightweight Field Shower System
4 removable stalls, incoming plumbing with shower heads and drains lines
Walk-in height with built-in floors, doors and skylights
Lightweight, comact an portable-2 bags; 75 lbs. (34 kg.) each, which includes shower stalls, shower heads, drain lines, etc.
Shelter size 8' x 12' (2.4m x 3.7m) with 7'2" (2.2m) maximum height
Each stall has area for temporary storage or clothes, bag for toilet articles
Low pressure air beam structure with manual inflator included
Can be erected in 7 minutes
With shower stalls removed, shelter can be used as command post, sleeping quarters, etc.
Use for personal hygiene or hazardous material decontamination
For night use, each stall has facilities for hanging flashlight or chemical light stick
Removable tent cover
Waterproof fabric
Test to withstand 30 mpg (48km) winds
Accessible from all 4 sides; sides can be opend for ventilation
Showers where you need them and when you want them
System burns fuel to heat water, uses DC power from a vehicle to run shower pump and controls
Can easily provide 24 showers per hour
Simple to set up and operate; up and operational within 15 minutes
Includes Field Shower Unit Water Heater
Supplies water for 4 continous showers
Accessory tray (included) which attaches to bottom of heater to store hoses, cables, tent stakes, spray gun, etc.
Lightweight, compact and portable - 75 lbs. (34 kg.) / 20" x 13" x 21" (51cm x 33 cm x 53 cm) with accessory tray attached
Fast - start taking showers 10 minutes after heater is started
Pulls water from any source - tank, steam, city water, etc.
Water is pressurized, heated to a selected temperature an discharged shower heads
Fully automatic with self diagnostics
Self-contained, safe to operate
Quick disconnect fittings
Energy efficient - burns 1/4 gallon (1 liter) fuel per hour
Burns JP4, JP8, diesel, fuel oil #1 & 2, kersosene and arctic
12 or 24 volt models availabe; 115 volt AC power adapter available
No dedicated personnel required to operate
NSN 4510-01-409-0139
MFG Model #:
MFX2710
- Part #:
C1003
- Price per EA(1 unit):
Call for pricing!!!