There is a $100 minimum order.
TriCon Environmental, Inc. Clandestine Lab Response Pak w/ Promask 2000 Gas Mask and attached booties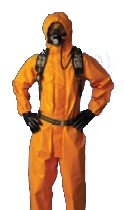 A Clandestine Lap Response kit that contains: Promask 2000 Gas Mask, DuPont™ Tychem® ThermoPro with attached booties (TP199T), Inner Chloroprene Gloves, Durable Outer Nitrile Gloves, North 12" Chem Overboots.

The manufacturing and production of Methamphetamine in illegal, clandestine, laboratories is a fast growing problem in all fifty states. According to the Center for Problem Oriented Policing "Responders must understand illicit drug chemistry; how to neutralize the risks of explosions, fires, chemical burns, and toxic fumes; how to handle, store and dispose of hazardous materials; and how to treat medical conditions caused by chemical exposure."

MFG Model #:
A1120
- Part #:
A1120
- Price per EA(1 unit):
$661.49